Who was Robin Hood?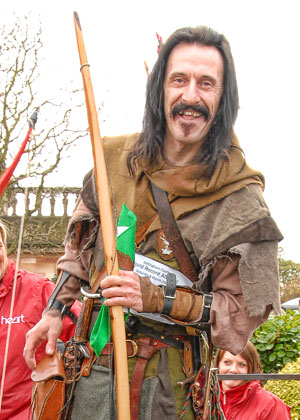 Robin is famous for his gallantry, robbing the rich to feed the poor and fighting against injustice and tyranny. Anyone who knows of Robin has also heard the stories of his outlaw band. The names of Little John, Friar Tuck, Maid Marion, Allan a Dale, Will Scarlet, Much the Miller and the evil Sheriff of Nottingham are as much a part of the legend as Robin Hood himself.
The stories of Robin portray him as a fearless outlaw leading his band of "merry men" (and women) against the tyranny of Prince John, The Sheriff of Nottingham and Sir Guy of Gisbourne. A brilliant archer, Robin lived a life of adventure - poaching the King's deer from the outlaws' retreat in Sherwood Forest.
Stories about the adventures of Robin have been told and retold for over six hundred years. In Robin's time, few people could read or write and consequently little was written down about the exploits of our hero. Instead, people learnt about Robin and his band through the ballad and song of wandering minstrels who weaved a patchwork of fact and fiction into the contemporary culture of the time.